Laurie Burnette interviewed guitarist and composer Daniel Dyonisius to talk about his new interesting CD called Miles To Go. February 2022
Laurie Burnette interviewed leaders / composers and educators Shirley Smart and Robert Mitchell to discuss their interesting new CD called Zeitgeist²: January 2022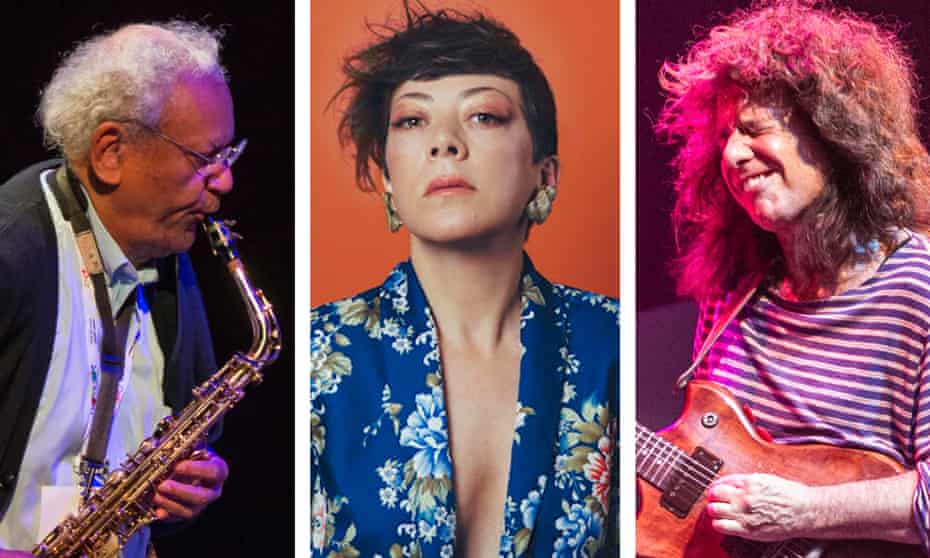 Anthony Braxton, Gretchen Parlato, Pat Metheny. Composite: Redferns, Getty
An enthralling live set from Pat Metheny, Ches Smith's fascinating blend of avant garde and Vodou and octogenarian Charles Lloyd's fresh takes on Leonard Cohen and the Beach Boys stood out in a strong year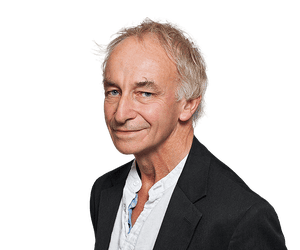 10. Emile Parisien/Tim Lefebvre/Christian Lillinger/Michael Wollny – XXXX
This international quartet of contemporary jazz mavericks was invited by German virtuoso pianist/composer Michael Wollny to play four unrehearsed free-jamming nights at Berlin's A-Trane club, and to massage a studio album from the best takes. It's sometimes horn-led and jazzy (saxophonist Émile Parisien's influence), explosively abstract, avant-funky or gracefully choirlike, but there isn't a cliche in earshot.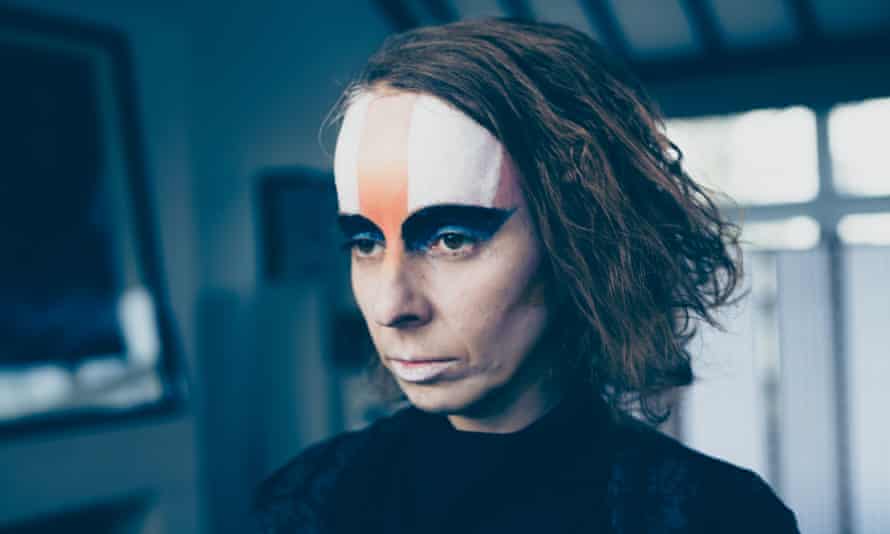 Uncategorisable … Ruth Goller
9. Ruth Goller – Skylla
Bass guitarist Ruth Goller has played bone-crunching punk jazz, harmonically mysterious Ghanaian ritual music, improv and avant-bop, but this uncategorisable venture, inspired by Greek mythology and aided by singers Lauren Kinsella and Alice Grant, joined iconoclastic ideas about guitar tuning and intonation (reminiscent of Derek Bailey) to ethereal, multi-layered vocal sounds sometimes suggestive of 1980s Laurie Anderson, to startling effect.
8. Anthony Braxton – Quartet (Standards) 2020
Sixty-seven tracks on a mammoth live-recorded box set by one-off multi-reeds virtuoso Anthony Braxton, one of the most prolific, unflinchingly exploratory and idiomatically open-minded artists in all jazz. Recorded with a UK touring band including Braxton-attuned pianist Alexander Hawkins, it focuses on a forensic, fearless re-examination of Broadway standards, jazz classics and popular songs. Read the full review.
7. Tim Berne/Chris Speed/Dave King/Reid Anderson – Broken Shadows
New York altoist Tim Berne is famous for knottily wrought originals, but this punchy all-covers set with fellow saxophonist Chris Speed, and the Bad Plus bass/drums pairing of Reid Anderson and Dave King, pays vivid tribute to the music of Ornette Coleman, Charlie Haden, Dewey Redman, and Julius Hemphill. The pieces are succinct and memorable, the playing right on the money.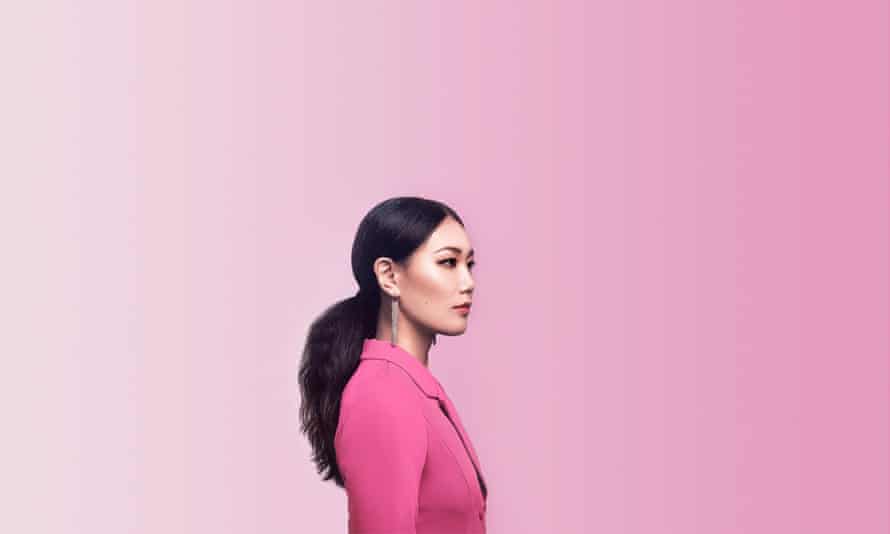 Prodigy … Jihye Lee
6. Jihye Lee Orchestra – Daring Mind
South Korean Jihye Lee was first an indie pop singer, then a jazz composer prodigy whose work has been compared to the legendary Gil Evans and Maria Schneider. Daring Mind, a contrast-packed big-band set produced by Darcy James Argue with Lee, shows just why in its dizzying sweep from bebop to 21st-century rhythm-bends and haunting Schneider-like harmonies.
5. Gretchen Parlato – Flor
Her singing can be as quiet as a sigh or as buoyantly melodious as calls by the hippest of birds. New Yorker Gretchen Parlato is a vocal adventurer, but also a delicately ingenious exponent of gliding Brazilian dances and sidelong swing. This terrific comeback set after a parenting break mixes touching originals and covers of composers from David Bowie to Joao Gilberto and Bach.
4. Shai Maestro – Human
Israeli pianist/composer Shai Maestro, once mentored by that country's famous bassist and songwriter Avishai Cohen but a bandleader of rare character for the past decade, made his best small-group recording to date on this session with Lima-born bassist Jorge Roeder, Israeli drummer Ofri Nehemya, and brilliant New York trumpeter Philip Dizack – cinematic, eclectic and profoundly humane music.
3. Charles Lloyd and the Marvels – Tone Poem
The music of Charles Lloyd – an octogenarian reeds player out of 1960s John Coltrane and Ornette Coleman but with his own poignantly voicelike sound – comes in several guises. His country-oriented Marvels group, including guitarist Bill Frisell, joins the songs of Coleman, Leonard Cohen and the Beach Boys on a set that sounds alluringly like a vocal album without vocalists. Read the full review.
2. Pat Metheny – Side-Eye NYC (V1.IV)
Guitarist Pat Metheny, one of contemporary jazz's boldest updaters of traditions from freebop to country music and hard rock, picked the classic 1960s funky guitar/Hammond organ/drums trio format for his Side-Eye project – here featuring young multi-genre keys player James Francies, and fiery drummer Marcus Gilmore. This enthralling live recording mixes classic Metheny evergreens and new works. Read the full review.
Thrilling … Ches Smith. Photograph: Pacific Press Media Production Corp./Alamy
1. Ches Smith and We All Break – Path of Seven Colours
Ches Smith, the New York drummer and composer equally devoted to avant-garde jazz and Haiti's ancient drums-and-vocal-centred Vodou culture, set himself the fascinating challenge of intertwining those threads. The result was this thrilling mix of haunting folk vocals, conversational multi-instrumental drumming and the kind of rhythmically intricate jazz favoured by his frequent bandleader, Tim Berne. Read the full review.
Check out our latest interviews podcasted on our Jazz London Radio YouTube page over the past few days:
7 Virtual Jazz Club's Contest – Live Concerts
The winners of the 5th Edition of the Under 25 and Pros & Amateurs' categories will play live at the Jazz Club in Ferrara
Ferrara, October 27th 2021
7 Virtual Jazz Club's Contest is pleased to announce the concerts of the winners of the 2020 Edition.
The concerts will be held at the jazz club ferrara and will be streamed live on facebook
Tommaso Perazzo Quartet
November 19th 2021- 9 p.m. CEST
Tommaso Perazzo Quartet (Tommaso Perazzo, piano, Ben Fitzpatrick, saxophone; Jort Terwijin double bass,
Giacomo Camilletti, drum) was born in 2018 thanks to the meeting of the four musicians at the Amsterdam
Conservatory. The band won the first Prize in the Under 25 section of 7 Virtual Jazz Club's Contest 2020
Edition.
NAUSYQA
November 19th- 10:30 p.m. CEST
NAUSIQA is an international band (Portugal, Netherlands,Spain, Italy) which combines jazz sounds with
flamenco, ambient, melodic, , drum 'n'bass. Their music draws on a wide range of influences: from
contemporary jazz, to the music film, from flamenco to drum 'n' bass. The band won the second place in the
Under 25 section of 7 Virtual Jazz Club's Contest 2020 Edition.
Camila Ronza duo
December 3rd 2021- 9 p.m. CEST
Camila Ronza (voice) and Cato Pamplona (bass) present standards of Brazilian jazz and original arrangements
of choro,samba, bossa nova, and forrò. A true revelation of the 2020 Edition of 7 Virtual Jazz Club Contest,
Camila won the first Prize in the Pros & Amateurs section.
The applications for the 2021 Edition (the Sixth Edition) are open until November 15th
Website
www.7virtualjazzclub.net
The 'Salute To Humphrey Lyttelton' Tour November/December 2021
An ensemble of jazz musicians from the UK and USA embark on tour in November 2021, in celebration of the legendary trumpeter, band leader and BBC broadcaster Humphrey Lyttelton, on what would have been his 100th birthday anniversary year. Rising to prominence in the early 1950's, Lyttelton's hit single 'Bad Penny Blues' was the first ever British jazz record to achieve top 20 status, and remained there for six weeks. Its success was largely due to a very catchy boogie piano riff, which was later used by Paul McCartney as the basis for the Beatles' song 'Lady Madonna'. Throughout his career, he blazed a trail with diverse presentations of jazz music and unique collaborations. In 2002, he performed (in front of 42,000) and recorded with Radiohead, engaging an entire new audience with his music and providing a rare platform for fellow jazz musicians to play on a world stage.
In addition to his influential role as leader of the jazz revival, Lyttelton, affectionately known as "Humph", was also a much loved broadcaster, hosting BBC Radio 2's 'Best Of Jazz' programme for many years, as well as BBC Radio 4's hugely successful and still running) comedy show 'I'm Sorry, I Haven't A Clue' (later hosted by Jack Dee).
To pay true homage to Humph's story and heritage, the 10-piece band that will celebrate his life and times will be led by the award-winning trumpeter Chris Hodgkins. Joining Hodgkins will be a cast of UK and USA jazz musicians, who will perform Humph's compositions and arrangements, as well as some brand new pieces composed especially for the tour.
A four part series on Humphrey Lyttelton, presented by Chris Hodgkins, will be broadcast on Jazz London Radio – London and the UK's Internet Radio Station at 8pm on Wednesdays the 3rd, 10th, 17th and 24th November.
The tour will also host a scheme, with participating venues, to "Create your Tune". The scheme is open to all ages and especially for people who have never composed a tune but would like to give it a try. Entry will be by mobile phone and the tune can be sung, whistled or played on a musical instrument. Full details arriving soon
A travelling exhibition on Humphrey Lyttelton's life and times will also accompany the tour and will consist of a media presentation and visual archive display based on Humph's writings and journals.
Join the band on tour for a captivating and insightful night of nostalgia and an exhilarating evening of live music.
The Salute to Humphrey Lyttelton Tour is support by public funding from Arts Council England with help from PizzaExpressLive. National Jazz Archive, the Jazz Centre UK , Jazz London Radio and Ina Dittke and Associates

For more information, interview and review requests, please contact Dynamic Agency: 07769 554 247 rupert@dynamicagency.co.uk / http://dynamicagency.co.uk/
The UK's only jazz industry conference confirms heavyweight list of expert speakers for November event in London
Celebrated musician and educator Orphy Robinson MBE, award-winning journalist Kevin Le Gendre, music industry changemaker Paulette Long OBE and Europe Jazz Network president Wim Wabbes to appear at the 2021 JPN Conference
'A New Perspective' is set to take place online and in-person at the Southbank Centre in London
The Jazz Promotion Network (JPN), the only UK and Ireland-wide network of jazz industry professionals has confirmed that the former Blue Note artist and award-winning educator Orphy Robinson, journalist and author Kevin Le Gendre and Europe Jazz Network president Wim Wabbes will appear at its annual conference this November.
Titled 'A New Perspective', the conference will take place online and in-person on the 19th and 20th November in association with the EJG London Jazz Festival. With the insight of experts from across the jazz sector and wider music industry, the conference will explore topics such as climate change, the post-Covid economy, streaming services, pathways into the music sector and the many complex levels of diversity in jazz.
Featuring industry roundtables, keynote speeches, artist showcases and networking opportunities, 'A New Perspective' is aimed at those working in the jazz industry as well as other creative professionals looking to gain a stronger understanding of the burgeoning sector.
The event will kick off with an online-only programme on Friday 19th November followed by an in-person event at the Southbank Centre in London on the 20th which will be live-streamed for remote attendees.
Multi-instrumentalist, composer and educator Orphy Robinson has been an integral part of the UK jazz scene for over 40 years, rising to prominence in the mid-1980s as an original member of the trailblazing musical collective, the Jazz Warriors.
Robinson went on to record five critically acclaimed albums during the 1990s on Blue Note Records, making him one of the first and only British musicians to be signed to the iconic jazz label.
Kevin Le Gendre is a journalist, author and broadcaster specialising in black music. He's the deputy editor of Echoes Magazine and has contributed to the likes of Jazzwise, The Guardian, The Independent, Music Week and BBC Radio 3's J to Z. Le Gendre has also written two critically acclaimed books on the history of black music.
Wim Wabbes is the Artistic Director of Handelbeurs Concert Hall and a climate change activist who founded Take The Green Train, a Europe Jazz Network initiative that addresses environmental issues facing the arts and cultural sector. His Friday keynote will explore the importance of international collaboration and how the jazz sector can respond to the growing threat of climate change.
The programme will also feature speakers and facilitators from the wider music sector, including Natalie South-Law from the pioneering disability-led charity Attitude is Everything, Ian Smith, an expert in international touring post-Brexitand Paulette Long OBE, former board director for both the Music Publishers Association and PRS for Music.
Along with being a founding member of the Alliance for Diversity in Music & Media, Long is also the current deputy chair of the UK Music Diversity Task Force and co-chair of the BPI Equality and Justice Advisory Group.
The JPN conference will conclude with two artist showcases from Take Five, an artist development scheme from the sector-leading live music production company, Serious. Presented as part of the EFG London Jazz Festival, the concerts will feature new and emerging talent such as Romarna Campbell, J Frisco and John Pope.
JPN Chair and CEO of Manchester Jazz Festival, Steve Mead commented: "This year's conference will be a hybrid of in-person and onlineevents, enabling us to connect UK-wide while also providing an exciting chance to come face-to-face for the first time in almost two years.
"We've all missed the opportunity to be with peers and share experiences during one of the most difficult periods that our sector has faced. This conference is all about coming back together and embracing the challenges ahead as we eagerly look towards the future."
The conference will also include board elections as part of its annual AGM with four positions open for applications. JPN is urging jazz professionals from across the UK and Ireland to stand for the opportunity to shape the future direction of JPN.
Tickets for 'A New Perspective' are on sale now and are priced at £55 for full access or £20 for access to all online events. Current members of JPN are eligible for a free conference pass. Under 30s and musicians are eligible for reduced tickets priced at £30 for full access and £10 for online access.
Tickets are available from Eventbrite.
About Jazz Promotion Network
The Jazz Promotion Network aims to advance and support professional development, information exchange and partnership opportunities for the UK & Irish jazz industry, artists and audiences.
A collaborative network that enables the diverse UK & Irish jazz sector to thrive, innovate and inspire.
Jazz Promotion Network links:
For interview opportunities and media enquiries please contact Joe Roberts.
e: comms@jazzpromotionnetwork.org.uk
t: +44 7551 604050
Sophia Alexandra Hall | PPA 30 Under 30 Student of the Year | Content Editor | Classic FM
This week we spoke to Sophia Alexandra Hall, the winner of the PPA 30 Under 30 Student of the Year Award. Though now she is making waves as a journalist, this wasn't always what she thought she'd be doing as a career. This interview covers everything from the flaws with having a '10-year plan,' the perils of shorthand, and Sophia's hopes for the future of our industry. It's an inspiring read that will leave you feeling positive about the future of journalism.
When did you know you wanted to be a journalist?
I knew I wanted to be a journalist the day I got into Law School.
Since finishing education (Undergraduate in Music at the University of Oxford, followed by a Masters in Management at Imperial College Business School), I had been working in the live music industry, until I was put onto furlough from April 2020. I felt pretty useless when the pandemic started, and didn't feel like I was doing my part, mostly because I didn't know how I could use my skills to help people during a global pandemic. At the end of April 2020, the UK Government introduced Statutory Instrument 445 overnight, removing vital legal protections and safeguards from children in care. My first reaction as a foster care advocate was to take to social media to share and sign petitions calling for the legislation's withdrawal. Then, I decided to take a different approach. I took an intense six-week course, accredited by the University of London, on English Common Law to further my understanding of emergency legislation. I used my new-found knowledge to educate others campaigning for the withdrawal of SI 445, as well as concerned foster children who weren't able to understand the legal rhetoric associated with the campaign. I then decided to apply for law school. If I couldn't help with the current legal proceedings, I decided I wanted to be able to stop something like this from happening again in the future. Thinking I wouldn't get in, I decided if I didn't get in, I would apply to journalism school as a second choice. I'm passionate about disseminating information in an accessible way, and what better way to explain legal actions, than in a widespread easy-to-read article. Within 24 hours I was accepted to Law School with an unconditional offer for an LLM in International Human Rights Law, and I was devastated. Turns out, my second choice of journalism school, had actually been my first, and a few weeks later when I got my acceptance email to the part-time NCTJ course at News Associates, with support from the amazing Journalism Diversity Fund, I knew that this was the right choice for me.
How did it feel to win PPA 30 Under 30 Student of the Year award?
This was such a mixed feeling. I received my award the day after I was officially diagnosed with Rheumatoid Arthritis after a 8 month long battle with the auto-immune condition. I'm not sure how to describe exactly how it felt to be studying at journalism school, whilst gradually losing the ability to hold a pen, but to put it in layman's – it sucked. This disease made me question my entire career choice – and it goes without saying, but my shorthand classes very quickly became more about me trying not to cry than keeping up with the 100wpm passages. I spent a lot of my training feeling pretty useless and frustrated as my body seemingly fell apart in front of me. Receiving the PPA award reminded me what I've still managed to achieve despite this, and I am going to do everything in my power to make sure this condition doesn't hold me back from a successful career in the industry.
Many publishers have recently made a commitment to better class and racial diversity in our industry, what do you think can be done to better this? What do you plan long term in your career to aid diversity and inclusion?
I got into journalism because the issues important to my community (other care experienced people) weren't being told in the mainstream. One of my first articles was an exposé on discrimination faced by pregnant care experienced mothers, and my pitch had been rejected by all of the major publications and broadsheets I had (admittedly cold) emailed. Sian Norris, Chief European & Social Affairs Correspondent, at the Byline Times, gave me the break I needed. I broke the story in an article for the Byline Times and subsequently, was asked by the Government's Independent review of children's social care to help create a parent-centered focus group to tackle the issue that I had exposed. I've since written multiple articles for Byline, and now have a much higher success rate when I cold-pitch editors thanks to my portfolio. All I had needed was that first 'yes' from an editor; in the future, Sian is the type of Editor I will strive to be. The type of Editor who helps to platform, not discourage.
What project have you worked on that you are most proud of?
Whilst I was still at News Associates, I was approached by Good Law Project to work on a video with the not-for-profit campaign organisation about their latest legal action. I had previously worked with the organisation via a care experienced collective I helped found, and their upcoming case involved the issue of young people in care being moved 'out-of-area'. I interviewed a number of young people who had experienced these moves, alongside professionals who were willing to whistle- blow on the current state of the UK's care system. I subsequently released a video, alongside an article, which I narrated and created with a really talented animator. You can watch the video here
Which journalists do you look up to and why?
I think my first proper 'journalism fan girl' moment was watching Carole Cadwalladr in Netflix's The Great Hack. When the documentary was released in 2019, I was doing my masters at business school, and journalism wasn't an option in my mind as a potential career. But when I saw what she had uncovered and the importance of her investigation, I was completely blown away. Investigative Journalism had absolutely captured my attention, and I knew I somehow wanted to do the same things she was.
How do you think publishers can continue to engage young talent to pursue a career in journalism?
My Twitter bio is mostly taken up by the sentence 'there are enough ears in this world to make the smallest voice heard'. Coming from a foster care background, I grew up thinking no one cared about what I said, thought, or the issues that mattered to me. Spoiler alert, there are quite a lot of communities out there who feel the same. Realising this, was one of the reasons I decided to become a journalist, and I think with the current situation of the world, many more young people are aware of this platforming inequality. By acknowledging who you have in the workforce and who you are writing about in the newsroom is a great first-step, and shows young people wanting to go into journalism to create change, that you are willing to act.
What's on your radar?
I love how multifaceted it is to be a journalist in 2021. Working in digital at a radio station means that on any given day, my journalism could be in a written, podcast, video, or social media format. Before journalism, I had a 10-year plan, and thought I knew exactly where my career was taking me. Now, I have no idea what the journalism industry will look like in 10 years, and that's so exciting. I can't wait to see what's next in terms of journalism formats and what new skills this career will bring.
What magazine do you stockpile?
I'm a digital girl for sure, and am a huge fan of gal-dem. Before I got into journalism, they were the first media publication I knew of that were tackling inequality in the newsroom and actively reporting on issues which are important to people of colour from marginalised genders. I also follow quite a few magazines on Instagram, as I think this social media platform especially has had a boom in terms of news delivery.
The Jazz London Radio All Stars performing "Night in Tunisia" at the Rich Mix on 24 September 2021. The band are:
Liv Fernandes – vocals, Kevin Davy – trumpet, Clare Hirst – saxophone, Deirdre Cartwright – guitar, Dorian Lockett – bass, Buster Birch – drums
Davey Ferchow posted October 12, 2021
The cassette never went away. According to National Audio Company (the largest audio cassette manufacturer in the US), the need for cassettes continued throughout the '90s and 2000s as there was still a demand for spoken word tapes. As cassettes were originally produced for dictation, this is where we began to see the tape come full circle.
The circle is now continuing to loop around as we've seen a cassette revival in the music industry. Cassettes are being produced and released at higher rates than they have in years. With the popularity of releases like Guardians Of The Galaxy: Awesome Mix Vol. 1, National Audio Company has seen their best sales since they opened in 1969 and they now produce cassettes for Disney, Sony, and Universal. The demand is there as sales continue to climb with young cassette fans leading the charge.
So what has inspired a new generation of music fans to collect cassettes? Information from the Discogs Database unveils some interesting developments over the last five and a half years.
Since 2015, the number of cassette releases added to the Discogs Database has increased almost every year. Part of this growth can be attributed to the number of new cassettes being released. Incredibly popular artists like Billie Eilish, Lady Gaga, and Taylor Swift have all released their recent albums on cassette in addition to vinyl, CD, and digital formats. We've also seen a return to cassettes in underground music. Bands like Poison Ruïn have kept the DIY cassette alive by self-releasing their own recordings, while labels like Sacred Bones offer cassette versions of the latest Molchat Doma and John Carpenter albums.
The data also shows that older releases are being discovered or rediscovered as the amount of tapes listed for sale has grown significantly over the last several years. In 2020, over 600,600 cassettes were listed for sale on Discogs. This year still has a few months to go and we have already seen more than 1,000,000 cassette tapes listed for sale this year.
Naturally, with more cassettes for sale, there are more cassettes to buy and members of the Discogs Community have continued to outbuy themselves every year since 2015. Looking at the data for 2021, it's looking like this trend will continue.
But why are people listing, selling, and buying so many cassettes?
Vinyl sales have been booming for years with no sign of slowing down. The popularity of vinyl has contributed to higher prices across the board and cassettes have stepped back in as a cheaper alternative for those looking to own physical media.
Millennials and Gen Z are looking for connectivity beyond the digital world. For Millennials, there is the nostalgia of returning to a format from their youth. For younger generations, there is the excitement of tapping into a culture that predates them. Most Gen Z kids have Gen X parents and many of them are discovering fashion trends and music formats from the '80s and '90s and embracing them the same way their parents did.
The pandemic has also helped boost sales as concerts have been canceled. Tapes allow fans to engage with music in a physical way and support the artists they admire.
While the data shows us that cassettes aren't likely to come back the same way vinyl has, it appears that cassettes are here to stay. So, if you are looking to get into cassettes or relive your youth, now is the perfect time to grab that boombox or walkman and let those tape spools spin!