Sophia's Corner is dedicated to Reviews and Interviews from Jazz London Radio's Director of Events
---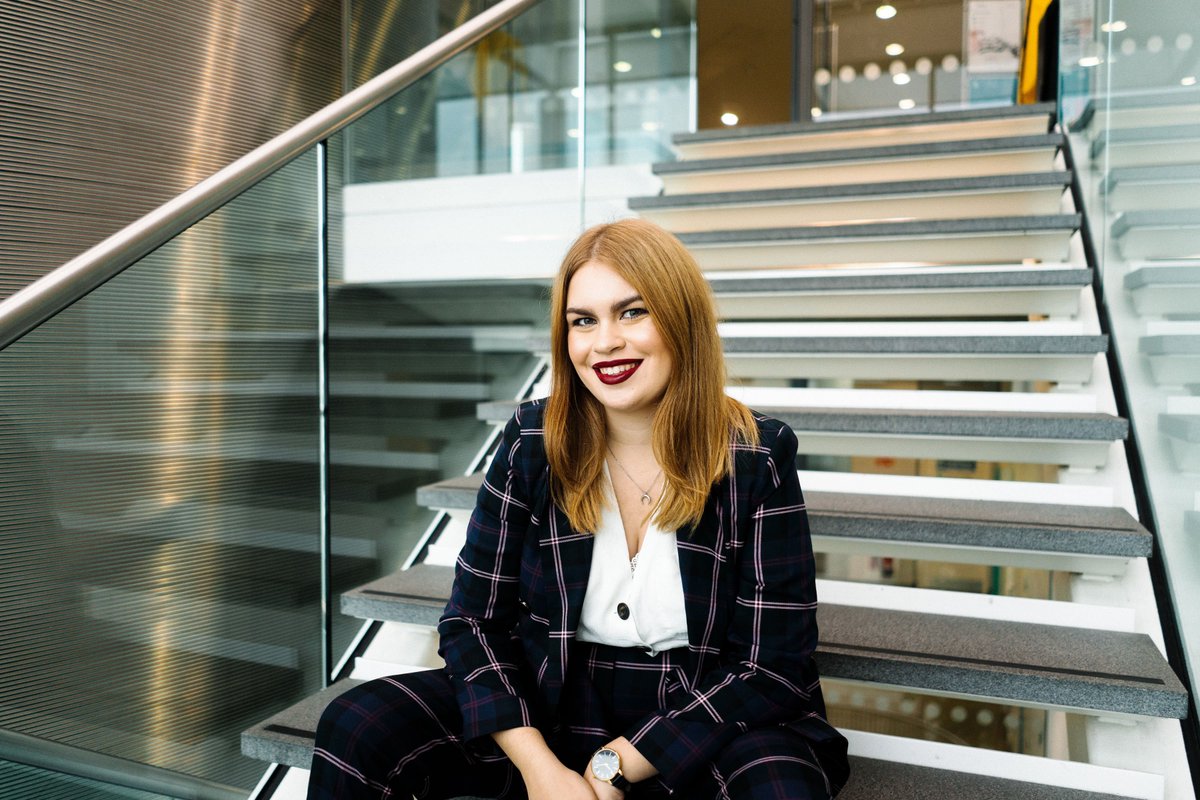 Meet the Author: Sophia Alexandra Hall is a Swedish born Saxophonist and Presenter based in London. With past careers at the Royal Opera House, the BBC, and the Metropolitan Opera (New York), Sophia is currently breaking onto the airwaves as the Presenter of 'Sophia's Big Band Corner' on the Jazz London Radio alongside her role as the station's Director of Events. She is also a manager within the music industry and was the first female President of the Oxford University Jazz Orchestra. She is currently a Master's student at Imperial College Business School and a Music graduate from the University of Oxford.
---
Jacob Collier: Djesse Vol. 1 – JLR Review Series
Friday December 7th 2018 marks the release of multi-instrumentalist Jacob Collier's vol. 1 of the innovative new album, Djesse. A dazzling collaboration with the Metropole Orkest, under the direction of Jules Buckley, the album was created entirely during 2018 and features a global cast of Jacob's musical inspirations. Guest artists include Voces8 (on the stunning opening choral piece Home Is), Take 6, Laura Mvula, and the Moroccan gnawa musician Hamid El Kasri. Jacob's debut album, In My Room released in 2016, won him two Grammy's alongside a Jazz FM award; since his first album's success, Jacob has gone on to have collaborations with artists such as Herbie Hancock and Hans Zimmer, speak and perform at an official TED Conference, and host his own performance at the BBC Proms 2018.
The first noticeable difference between Jacob's debut album and the first volume of Djesse is the ultimate scale of the project. The contrast of the might of the Metropole Orkest behind Jacob's creative ideas in Djesse vs the sparser more intimate nature of the appropriately titled In My Room, shows off the extraordinary limits of compositional language which Jacob forges; this new instrumentation does not however necessarily indicate a musical growth which would overshadow his debut album. It is all too common for artists to drastically move away from the sound world produced in their debut album, causing audiences to brand past music as derogatory 'early' compositions. Djesse's sound world however, keeps Jacob's signature stylisations of certain harmonic and melodic devices, alongside his prominent new dramatic genre and emotional shifts.
An example of such dramatic genre collisions can be found in the Djesse Volume 1 single, With the Love in my Heart. This densely packed six-minute work takes the listener across a multitude of genres ranging from trap to disco to edm/neo soul/funk to ballad; an overall collective genre his followers have labelled neo-jazz. At the London album launch in November, Jacob commented that the music on the Djesse, "doesn't really fit into one genre. [I've] combined elements of world music, funk, classical, bebop, alongside others to create the overall soundscape on these albums. Because of this I've been able to feature a number of varied artists, from Hamid El Kasri, one of the most sought-after maalems in the world, to voces8, a classical acapella octet from the United Kingdom". A stand out reason why With the Love in my Heart is such a suitable single choice is that it features elements from tracks in his first album, and successfully re-introduces them in his contemporary voice. Ideas hidden within With the Love in my Heart, include suggestions to the Hideaway chorus, Close to You groove and Saviour ending melody all within this track, which is predominately focused on Orchestral and World music.
Catch Jacob in the UK on the following Tour Dates:
Monday, Feb 18, 2019 – Brighton – Concorde 2
Tuesday, Feb 19, 2019 – Bristol – Trinity
Wednesday, Feb 20, 2019 – Manchester – Gorilla
Friday, Feb 22, 2019 – London – Hackney Arts Centre
Djesse Vol. 1 is released 7th December 2018.
---
Xhosa Cole announced as BBC Young Jazz Musician of the Year 2018
Five fantastic young jazz musicians competed in the BBC Young Jazz Musician Final last night (recorded November 24th, broadcast at 9pm on BBC4 November 25th) however, the title of BBC Young Jazz Musician of the Year 2018 was awarded to saxophonist Xhosa Cole. The final took place at the Queen Elizabeth Hall at London's Southbank Centre, event supported by the Associated Board of the Royal Schools of Music. This year, for the first time, the Final was held at the EFG London Jazz Festival, as part of a new relationship designed to further the competition's aim of showcasing the most talented young jazz performers to audiences across the UK.
In the grand final, each performer was tasked with playing a sixteen-minute set, which included at least one piece written or arranged by themselves. Xhosa played "Moving Ladywood" (Xhosa Cole), "I Cover The Waterfront" (Johnny Green) and "Moment's Notice" (John Coltrane). Each of the contestants were backed by an outstanding band, consisting of Paula Gardiner (bass), Asaf Sirkis (drums), and led by Gwilym Simcock (piano).
Following his victory, Xhosa said:
"It's been amazing to represent and have been represented at this prestigious celebration of jazz music in the UK. The calibre of musicianship and passion for jazz music displayed on the stage today has been incredibly inspiring to be a part of."
This year's judging panel was made up of Monty Alexander, Zoe Rahman, Gary Crosby, Zara McFarlane and Iain Ballamy.
Of the winner, judge Iain Ballamy said:
"Xhosa's performance was so heartfelt, sincere and communicative. It's easy to see he has such a deep and genuine love of the tradition that gave us such a convincing performance on the night. All five finalists were brilliant – I'd be happy to share the stage with any one of them – and hope to do so!"
The full line-up of BBC Young Jazz Musician finalists included:
Xhosa Cole – saxophone – 22 years old
Reuben Goldmark – piano – 18 years old
Fergus McCreadie – piano – 21 years old
James Owston – bass – 22 years old
Seth Tackaberry – bass – 20 years old
2016 winner Alexandra Ridout also performed at the final and said of her time as BBC Young Jazz Musician:
"Being named BBC Young Jazz Musician in 2016 was inspiring and so enjoyable. The whole competition made such an impact on my life because my playing improved and I gained more confidence as a musician and a person. I'm really excited for what the future holds for Xhosa."
Since winning the 2016 final, Alexandra has performed around the country in festivals, concert halls, arts centres, music societies and major jazz clubs, and has had her music played on various BBC Radio 3 shows, Jazz FM and Jazz London Radio (listen to the JLR Interview Series with Alex). She began studying at the prestigious Royal Academy of Music in September 2017.
In addition to the television coverage on BBC Four and iPlayer for 30 days, BBC Radio 3 will be broadcasting highlights of the Final in J to Z – a weekly programme exploring new sounds with classic recordings and exclusive sessions – on Saturday 1st December.
---
EFG London Jazz Festival Report – JLR Review Series
 Part 1: Down for the Count Swing Orchestra, Jeff Goldblum, BBC Concert Orchestra with Shiva Feshareki
Day 1 – Friday 16th November
The Down for the Count Swing Orchestra is the perfect festival draw – steeped in old-school swing, powerhouse big band charts, smooth seductive ballads, and sprinkled with top-notch vocalists. The opening Sing Sing Sing (made famous by Benny Goodman in 1937) is the iconic opening expected from a "Big Band Bash" as advertised by the band, and the audience knew they were in safe hands when the clarinettist took the original Goodman clarinet solo. Amongst the stand out performers, was recent RAM graduate, lead vocalist Katie Birtill who effortlessly blended contemporary clean melodic phrases, with style-appropriate sassy scat. Being an eleven-piece unit as opposed to the eighteen-piece norm meant occasionally the band's melodic lines were lost or overpowered, however, the musicians still managed to capture the fun and punchiness of the Big Band genre, captivating traditionalists and seasoned professionals alike.
Day 2 – Saturday 17th November
Opening with an accidental fire alarm, the 3pm performance at Cadogan Hall of Jeff Goldblum and the Mildred Snitzer Orchestra was set from the get-go to be a memorable afternoon. The Hollywood legend had the audience wrapped around his finger from the moment he apparated onto the stage, and kept the whole room engaged for the duration of the concert by combining a mix of music with spontaneous quizzes and trivia facts; a particular herculean task due to the dramatic age range of the sold-out hall. Musically, Goldblum's jazz improvisation was often slightly sparse, yet also stylistically sound and harmonically defiant. The five-piece band alongside Goldblum on keys and Imelda May's unmistakable vocals – organ, tenor saxophone, guitar, bass, drums – spotlights some of LA's top musicians including the roaring shady tone of tenor saxophonist James King which quickly became a highlight in each arrangement.
Day 3 – Sunday 18th November
In a bizarre BBC Concert Orchestra program where during a jazz festival, not a single saxophone joined the ensemble's ranks on stage, the fantastic composer and turntablist Shiva Feshareki guided the London Jazz Festival's audience through her carefully constructed sound-world, making the unfamiliar familiar. After an opening half of stereotypically jazz associated charts such as the popular Wayne Shorter, Nefertiti and the Coltrane influenced Gordon Hamilton, Baby Steps First, the introduction of turntables to the stage brought a changed air to the performance venue.
Using both live musicians and the pre-recorded sounds of the orchestra, Feshareki's work moved in retrograde to the orchestra's performance, joining in the midsection to create a deeply satisfying cacophonous duet between electronic and acoustic. This moving performance from both Feshareki and the BBCCO should be hailed as one of the triumphs of this year's EFG London Jazz Festival, as it successfully and accessibly welcomed in a new development of the ever-changing genre of Jazz.
---
Sophia's *TOP PICKS* for the 2018 EFG London Jazz

Festi

val
Following on from the show tonight, here is the full list of my top recommendations for the EFG Jazz festival 2018!
Friday 16th November
Saturday 17th November
Sunday 18th November
Monday 19th November
Tuesday 20th November
Wednesday 21st November
Thursday 22nd November
Friday 23rd November
Saturday 24th November
Sunday 25th November
---
The Mingus Big Band: Ronnie Scott's Residency 2018 – JLR Review Series
Last week, the Mingus Big Band hosted their week-long sold out residency at Ronnie Scott's Jazz Club. The annual performances have become a tradition over the last 25 years the band has been visiting Ronnie's, and bassist Boris Kozlov fondly named the club as the band's second home during his welcome. The packed-out Ronnie's audience were whooping and applauding from the first mention of the band's name, so the feeling of fondness was obviously mutual.
Opening with a Baritone saxophone feature, Lauren Sevian delighted the audience with the first solo of the night; phat powerful, and littered with hard bop style accentuations which cemented the band's prowess for the repertoire of Charles Mingus. For the length of their residency, they played a completely different set for each performance, allowing as much showcasing of the Mingus catalogue as possible.
Kozlov did a fantastic job throughout the evening of personalising every member of the band, so much so that by the end of the set, the audience knew each musician on stage by name and instrument part, something which can go amiss in the Big Band culture. This was also helped by having every member of the band take a solo, showing off their own individual flares within the broader context of the Mingus catalogue. The band are handpicked from New York City's top musicians, and each musician brings something different in order to create this unique, tight and full sound. I do however, want to pick up on two performers in particular.
Helen Sung gave one of the standout solos of the night and overall had some of the best chops I've heard in a big band; the beginning of Orange Was the Color of Her Dress, Then Silk Blue especially transfixed the club, with any quiet conversations that had been whispered, quickly silenced in awe. Her flawless transitions between tempo sections proved her prowess as a top rhythm section player alongside her virtuosic monster solos. On lead alto, Brandon Wright headed up the saxophone section with masterful control, however, it was his calmer soloistic moments which became a highlight of the night.
Tune in to Sophia's Big Band Corner on 28th October to hear my interview with Lauren Sevian during my Mingus special show. You can also watch a live stream of a residency performance here
Photography credit to Carl Hyde
---
Callum Au Octet: Americana! A Musical Celebration from Hollywood and Broadway – 

JLR Review Series

 
Friday marked the first Jazz event of the Music@Malling festival organised by Thomas Kemp, with a concert from the Outstanding Trombonist and Musical Director, Callum Au. Over the next two weeks, JLR are reporting from West Malling as we review and interview the jazz stars part of this contemporary music festival.
A Trombonist, Musical Director, Arranger, Orchestrator, Composer, and recently turned App Designer, Callum Au is the embodiment of the modern-day musician. With the industry constantly adapting, musicians have had to chameleonize themselves to keep up with the latest aspects which now encompass the label of a performer. Within the genre however, Au is certainly a jack of all trades, a trait which he demonstrated heavily during his concert at St Mary's last Friday evening.
The 8th incarnation of Music@Malling this year features notable artists ranging from actor Charles Dance OBE, vocal ensemble Tenebrae, and Master of The Queen's Music, Judith Weir CBE; the whole program is running from the 16th until the 29th September 2018. Promoting historic venues across Malling is part of the festival's mission statement, meaning the audience at Americana! were treated to the first Jazz event of the season inside St Mary's Church, West Malling. An unorthodox venue for a jazz octet performance, the band were not deterred by the layout of the space, instead making use of the impressive acoustic to accentuate their 'boom-ier' repertoire, along with Trumpeter James Davison's supersonic register.
The Callum Au Big Band was scaled down to an octet and the arrangements were adapted to cover each main instrument – Jon Shenoy on Alto Sax, Nadim Teimoori on Tenor, Rob Fowler on Bari, Davison on Trumpet, Au on Trombone, Rob Barron on Piano, Adam King on Double Bass, and the legendary Clark Tracey on Drums. This Octet set up provided an interesting contrast to the band's debut album Something's Coming, released in 2012 as a suite dedicated to Bernstein's musical, West Side Story. Although Au's expressive writing has been incredibly prominent since his earlier work with the National Youth Jazz Orchestra, the newer arrangements from Friday's performance easily establish him as one of the greatest jazz orchestral voices of his generation.
The stand out piece was Au's arrangement of Venus, from Holst's The Planets. Au has the same intensely intimate understanding of orchestration demonstrated by arrangers such as Duke Ellington and Stan Kenton. Legitimised within the first few bars of Venus, the thick harmonic soundscape constructed by the horns, paired with the subtle echo in the church, instantly transfixed the audience. Not satisfied with simply showcasing his arranging prowess, Au's mute work, along with his dark yet vibrant tone, during Ellington's Mood Indigo, made for the most memorable solo of the night. Special mentions must also go to Davison's arrangement of Stardust by Hoagy Carmichael, which naturally morphed into an emotionally charged flugelhorn feature, and the impressively intense improvisational battle between Fowler and Barron during the Wizard of Oz 'suite-ette'. The encore, an arrangement of the theme from Star Trek, made an admirable attempt at blowing the roof off the Church, and left the audience out of breath, wondering how the horn section's fingers were able to move at such warp speed…
You can see Callum Au at Ronnie Scott's on 2nd October as part of "Quintet-A-Tete", also featuring trumpeter James Davison and bassist Adam King.
Photograph by Jeff Ninnes, Malling Photographic Society
---
Adrian Cox: Profoundly Blue – JLR Review S

eries 
Friday 24th August marked the sixth day of the 100 Club's Jazz and Blues Week with a concert from British Jazz Award Nominee, Adrian Cox. All this week JLR are reporting from the 100 Club as we review and interview the stars of its new Jazz and Blues Festival.
Adrian Cox's 'Profoundly Blue' is a concert primarily dedicated to the music of Louisiana born clarinettist, Edmond Hall; an artist most widely known for his work with Louis Armstrong. The title, Profoundly Blue, comes from the 1941 hit album which features Hall alongside Meade Lux Lewis and Charlie Christian. Cox directs a quartet through a number of pieces from this album and others, such as 'Rumpus on Rampart', and 'Petit Fleur'.
Described as "London's most charismatic reedsman" (TimeOut), Cox oozes charm and a deep passion for his art, making him instantly likeable before he's played a single note. His knowledge of the musical works and background of Hall's life only builds on this, helping him to create this unique type of historically informed jazz performance. It's easy to see why this show has been met with such rave reviews and sold-out performances across Europe. From the get-go, the music that Cox, Joe Webb (piano), Simon Read (bass) and Gethin Jones (drums) brought to life at the packed out 100 club on Friday lunchtime was stunning; the relationship and communication between the quartet allowed for a strong resonation with the original album's specified genre. In a radio interview with JLR last week, Cox explained to listeners how Hall's 1941 album was an example of Chamber Jazz, a genre of music which involves small, acoustic-based ensembles where group interplay is central to a performance.
Cox's tone is charismatically cheeky, and delightfully distinctive; his high-energy stage presence, utterly infectious, and every member of the audience could be found grinning during one of his wildly virtuosic solos. His all-wood tone was perfectly showcased during a number of performances, but especially during the title track 'Profoundly Blue', which also gave Cox his first opportunity to delight the audience with imaginative improvisations; from that moment, he had effortlessly taken ownership of the 100 Club's stage. Highlight's from the second set included, "Don't give me sympathy", where Cox broke away from his soulful clarinet playing, to grab the microphone and serenade the room with his vocal talent.
In 'Dawn on the Desert' Cox and Jones psychically collaborated to create a fantastically intense Clarinet/Drums section, full of rhythmical anticipation and harmonic ambiguities. Cox increasingly seemed to have more and more fun as the show went on, and often his phrasings were matched by energetic bounces depicting childlike excitement for the music. Throughout both sets, Cox easily switched between ecstatic, gymnastic solos and delicate improvisational melodies, dependant on the music, showcasing the full, unashamed range of his extraordinary talent.
You can see Adrian Cox perform 'Profoun
dly Blue' during a two-night residency at Green Note, Camden on 5th/6th November.
Photo by Jeremy Southgate posted on Instagram – follow Adrian Cox across social media @AdrianCoxMusic
---
Sam Barnett Quartet Feat. Theo Travis – JLR Review Series
Tuesday marked the third day of the 100 Club's Jazz and Blues Week with a concert from one of the UK's top young Jazz musicians, Sam Barnett. All this week JLR are reporting from the 100 Club as we review and interview the stars of its new Jazz and Blues Festival.
A born and raised Londoner, Sam Barnett is about to start his second year at the Jazzcampus, Basel, Switzerland; he is an alumnus of the Purcell School of Music, NYJO 2/London and the Junior Academy Jazz program. In 2015, he became the first "Emerging Artist" to be sponsored by Trevor James Saxophones, and last year he released his debut album, which was longlisted for the 2018 Unsigned Music Awards. If all of this wasn't impressive enough, Sam Barnett is seventeen years old.
Barnett's compositions certainly demanded virtuosity of himself, pianist Rupert Cox, bassist Kuba Dworak, and drummer Phelan Burgoyne, but his sound-world gave the rhythm section a chance to play with various techniques and harmonic language. Burgoyne demonstrated a smooth brush work during an early Ballad, whilst Barnett gently breathed vibrato-laden notes across each stroke. A mention must also be given to Cox's imaginative solo in "100 Seasons", featuring melodic, songlike elements which he doubled in octaves across the piano's range. Theo Travis joined the band on stage for this piece with an explosive solo that almost stole the show, however, it was clear that Barnett was focused and at ease in the intimate club atmosphere; his final solo matched Travis' as he danced effortlessly between the lower end of the saxophone, up into the altissimo register.
The second set saw Travis switch to flute for an arrangement of his composition, "The Book"; his cool full tone easily cut through the quintet's layered sound during both the head and his solo. This was followed by another composition from Travis, "All I know", which demonstrated his attractive Brecker-esque tone on the tenor within a very deliberative musical build-up of suspense around his intensely impressive solo. The communication between the rhythm section was unparalleled during the piece, and the audience could not ignore the cheeky smiles between Cox and Dworak before the beginning of a new section. The concert ended with a fast swing, another of Sam's compositions, which demonstrated his talent for writing as well as playing; the work sped towards the finish and left the club on an adrenaline rush.
You can find Sam on social media @SamBarnettSound or at his website www.sambarnettsound.com
---
NYJO Presents: Rosie Frater-Taylor + Marco Natale-Miles Quintet – JLR Review Series
Monday marked the second day of the 100 Club's Jazz and Blues Week with a workshop and concert from some of NYJO's top musicians. All this week JLR are reporting from the 100 Club as we review and interview the stars of its new Jazz and Blues Festival.
This intriguing double bill at the 100 Club, featuring the young multi-instrumentalist Rosie Frater-Taylor and the trumpeter Marco Natale-Miles, was decidedly a showcase for two of the brightest talents in the training bands of the National Youth Jazz Orchestra. The UK Band, turned education-organisation founded by Bill Ashton O.B.E in 1965, has nurtured the careers of many of the stars of the UK's jazz scene such as Guy Barker, Gareth Lockrane, Nigel Hitchcock, and the late, great chanteuse Amy Winehouse. NYJO's aims are to provide an opportunity for gifted young musicians from around the UK to perform jazz in major concert halls and prestigious clubs, and introduce a love of jazz to as wide an audience as possible.
The focus of the first set lay on the premiere of Marco Natale-Miles, "Icelandic Suite", a three-movement piece with a contrasting landscape captured in each new section. Written in just two and a half weeks specifically for this concert, the work is scored for trumpet, alto saxophone, bass, drums and piano. The programmatic writing was evident from the glistening cymbal rolls, explosive piano ostinatos and rapid chordal progressions, with harmonic language between the trumpet and alto saxophone strongly reminiscent of Miles Davis's Kind of Blue. Natale-Miles warm, liquid timbre was able to seep through the rhythm section's hard-core swing, and paired well with the saxophonist's dark honeyed tone.
Rosie Frater-Taylor's "On my Mind" balances the innocent with the playful in her debut album material. The lyrical mix of emotion and wisdom is matched by the graceful instrumental accompaniment; each instrument on the soundtrack was recorded by Frater-Taylor, but at the 100 club she was joined by a four-piece band, including her father on the drums. A multitude of guitars (and ukulele) are used throughout the performance, though this occasionally created unnecessary elongated transitions; her solos were intriguing, sometimes simple, other times complex. Above all, she has a distinct gymnastic voice and, perhaps most importantly, a clear understanding of the unique sound-world she wants to create.
Rosie Frater-Taylor is at Kansas Smitty's, 4th October for the "On my Mind" album launch
---